Pearl Jam Return With Summer Tour
Pearl Jam are preparing to hit the road for the first leg of a world tour in support of their self-titled, eighth studio album and debut for J Records, due May 2nd. The month-long string of dates kicks off May 9th in Toronto, and continues through June 3rd, ending with a two-night stand at New Jersey's Continental Airlines Arena.
This is the first major tour for the Seattle rockers since they co-headlined the Vote for Change tour, leading up to the 2004 presidential election. Formed in 1991 and known for their energetic live show, they have since sold sixty million albums, with both their debut Ten and 1993's Vs. hitting multiplatinum status.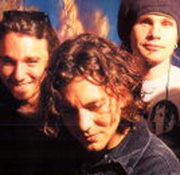 However, the group's last effort, 2002's Riot Act, was met with less enthusiasm and only went gold. The band hopes Pearl Jam may introduce them to a whole new audience. "It feels like a new opportunity for us," says guitarist Stone Gossard. "We're proud of the songs, and we think they have a chance to do a little better commercially."
The first single, "World Wide Suicide," penned by frontman Eddie Vedder, hits radio Wednesday. On the same day, the song -- which guitarist Mike McCready has described as "very punky and Who-ish" -- will be made available as a free download on the band's Web site, pearljam.com.
Joining Pearl Jam for the first leg of their tour will be new indie darlings My Morning Jacket. Tickets are currently on sale to the band's fan club members, and public on-sale dates will be announced soon.